The 7th edition of OOTYULTRA is scheduled on 31-Mar-2024, Sunday
Dear OOTYULTRA enthusiast,
From its humble beginnings as a training run for aspiring ultra-marathoners at KaysFIT Academy in Ooty, OOTYULTRA has evolved into one of the most remarkable running events. It continues to offer runners an unforgettable blend of challenge and beauty.
Since its inception, OOTYULTRA has gained the affection of recreational runners and serious ultramarathoners thanks to its unique appeal. This event not only celebrates the spirit of marathon tourism but also supports significant social causes in the enchanting Nilgiris District.
Our dedicated crew and volunteers are committed to ensuring a "safe" and "wow" experience for all participants while delivering exceptional value to our sponsors and partners.
Are you ready for the challenge? Whether you're tackling the 90k, 60k, 30k, or 15k, OOTYULTRA welcomes every runner!
Get ready to embrace your #ultramalaivasi journey!
Coach Kay, Founder & Race Director, OOTYULTRA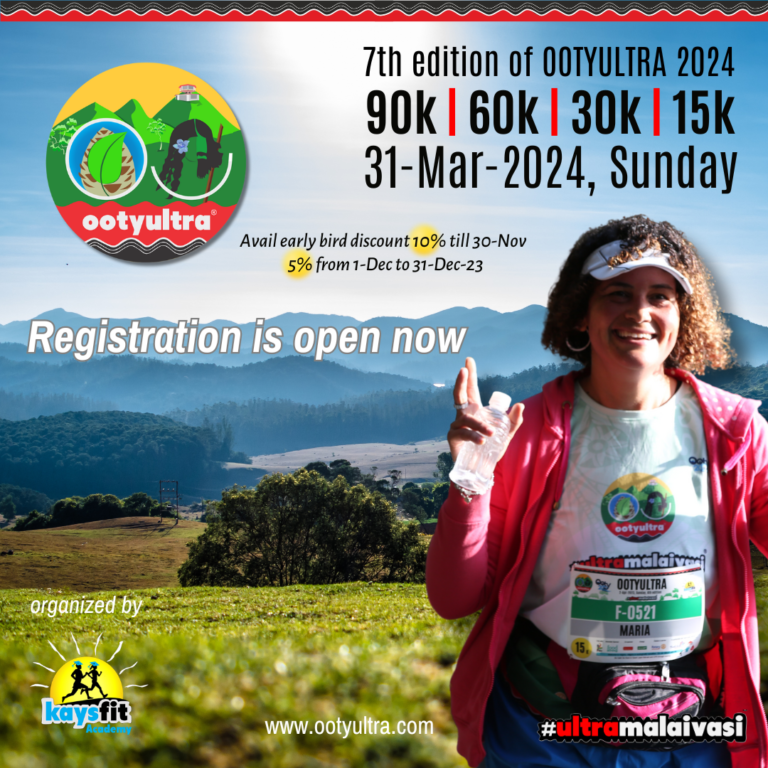 OOTYULTRA Registration ends, Qualification window ends
7th Edition of OOTYULTRA, Race Day
Registration Instructions
Choose your event category correctly.  To help you understand the OOTYULTRA race, we have published supporting information on each race category page –> 90k | 60k | 30k | 15k.
All 60k & 30k runners MUST MUST MUST meet the qualification conditions mentioned on our website (view here)
If you are an OOTYULTRA 60k or 30k runner, submit your qualification race details within the Qualification Window.
Read and understand the event rules carefully.  Your entry ticket is non-refundable.
The last registration date will be 28-Feb-2024 or whenever the maximum event capacity is reached.
Follow us on Facebook & Instagram to receive the latest updates regarding OOTYULTRA.  Join the OOTYULTRA Strava club

, stay connected with fellow #ultramalaivasi runners

Write to info@ootyultra.com if you have any questions.  Optionally, you can click the Messenger Icon on this page to chat with us.
Category
90k
60k
30k
15k
Indian Citizens

Rs. 6500/-

6175/-

Rs. 4500/-

4275/-

Rs. 3300/-

3135/-

Rs. 2500/-

2375/-

Nilgiris District residents

Rs. 6000/-

5700/-

Rs. 4000/-

3800/-

Rs. 2800/-

2660/-

Rs. 2000/-

1900/-

Foreign Citizens (& Foreign Passport Holders)

Rs. 7500/-

7125/-

Rs. 5500/-

5225/-

Rs. 4300/-

4085/-

Rs. 3500/-

3325/-
Receive the early bird discount of 10% off per ticket till 30-Nov-2023 & Rs. 5% from 1-Dec to 31-Dec.
Bulk registrations & payments can be made for > ten members in a group. Please write to info@ootyultra.com.
A limited number of Charity Tickets will be available after the regular registration ends

18% GST extra + applicable card & platform charges